How to Apply Principles From THE 7 HABITS OF HIGHLY EFFECTIVE PEOPLE to Your Sales Process
December 13, 2019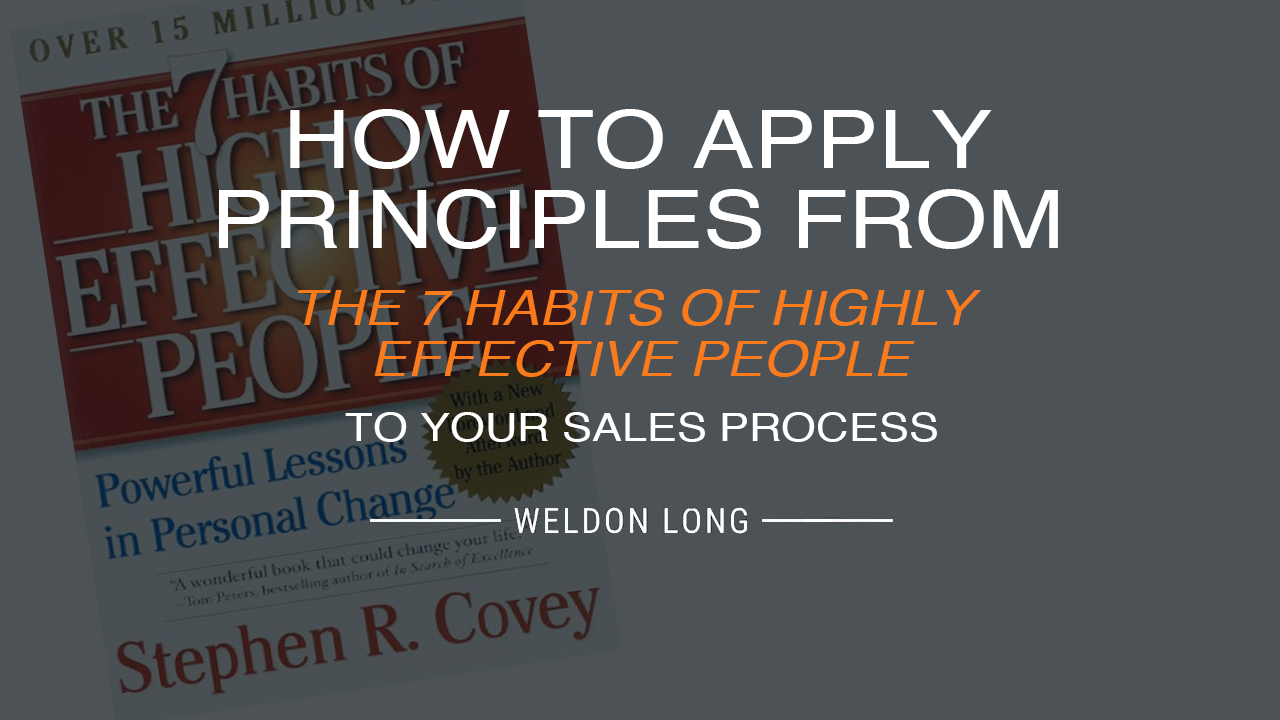 One of the unexpected surprises of my changed life after prison was meeting and then being mentored by Dr. Steven Covey, author of the seminal The 7 Habits of Highly Effective People. I learned how to apply his seven habits, and much more, to my own life and sales process and have incorporated them into my mindset and sales training. In fact, you can apply the same transformational results with three simple action steps:
Get your MIND right
Get your SALES right
Get your CONSISTENCY right
Action Step 1. GET YOUR MIND RIGHT
Getting your MIND right means creating a Personal Prosperity Mindset that is designed to thrive in the face of adversity AND succeed in the face of any challenge. Let's face it, succeeding in sales is about being able to prosper in the face of prospects who want to get a cheaper price, want to "think about it" and want to get competitive offers. When you have the Prosperity Mindset, you will proactively eliminate those objections. You will have the keys to the kingdom of wealth and success.
Action Step 2. GET YOUR SALES RIGHT
Getting your SALES right is about using a sales PROCESS to produce consistent sales results. Consistent sales results come from consistent sales activities. Random sales results come from random sales activities. It's not rocket science.
Action Step 3. GET YOUR CONSISTENCY RIGHT
Getting your CONSISTENCY right is about THINKING the right things and DOING the right things on EVERY sales call to generate consistent sales results. The reality is, if you think the right things and do the right things on a consistent basis, YOU WILL CREATE THE RIGHT THINGS. You can't do the right things in sales and accidentally create the wrong results.
I desperately wanted to change my life in so many ways: to be a better father to my son, to contribute to other people, to be a man of integrity and character, to put into practice all the lessons of The 7 Habits of Highly Effective People and the many other inspirational books I had consumed during my dark years in prison. But the first thing I needed was a job, and after six months of taking the bus from a halfway house every day with my sack lunch in hand and being turned down again and again, I finally landed a commission-only job selling air conditioners, which I knew nothing about, and still don't after building two successful HVAC companies. Even though I wasn't very experienced in selling, the sales industry immediately changed my life. In my very first month of selling (July 2003), I sold $149,000 worth of air conditioners and earned nearly $14,000 in sales commissions. I was still wearing a Department of Corrections ankle bracelet to track my whereabouts, and I had spent the past seven years making twenty-five to fifty cents per day in prison. That's how fast the Prosperity Mindset and a sales process can change things. It was the sales industry that picked me up, dusted me off, and gave me a real chance to create a life of success, wealth, and happiness.
But, at first, I had good months and bad months, and found I had to develop a real sales process along the way to that success, and you can apply the same process yourself for consistent results because you can't "just wing it." This is a simple yet incredibly powerful sales truism, but before you can apply it, you must understand the need for a process. Many sales professionals reject the idea of a process altogether, preferring to rely on their communication skills and ability to "wing it."
There is no doubt that strong communication skills are helpful in a sales career, but for some, those skills can serve as a justification for not taking the time to study and master a sales process. And we all know something about human nature: Humans sometimes forget things. When we forget things on a sales call because we have failed to master a process, we can end up skipping one or more key elements that may determine purchasing behavior. The reality is that we are simply more effective when we have a routine and a process to follow. If you want to learn more about how to apply the principles of The 7 Habits of Highly Effective People to a prosperity mindset and consistent sales process, click the link here: Schedule a Demo
---