Bestselling Author
New York Times & Wall Street Journal
The Upside of Fear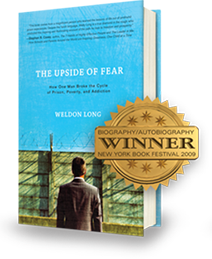 Writers Digest Grand Prize Winner for Best Self-Published Book
Winner of the 2009 New York Book Festival's award in the Biography/Autobiography category
Runner-up for the 2009 Hollywood Book Festival's award in the Biography/Autobiography category
From the brutality of violent street crime to the compassion of a loving father for his son, this powerful memoir takes you from desperation to inspiration through the transformation of a drug-addled criminal into a fully realized, successful man.
The Upside of Fear exposes you to the harsh reality of a criminal life and creates a riveting portrait of true crime at its fundamental level–from buying the duct tape for an armed robbery to saving the life of a prison guard. Long recounts his harrowing journey of self-discovery and how he went from being a drunk in a jail cell to the CEO of a multimillion dollar business. Twenty years of drinking, drugging, robbing, and lying led him to more than a decade of time spent in prisons, jails, and halfway houses–and a strained relationship with a son he barely knew.
Through the revealing perspective of an eloquent criminal, you will learn how to change fear into a positive motivating force and use the mind to strengthen the will, even in the bleakest of circumstances. Long's story demonstrates that love can redeem even the most hopeless criminal, and that there can be no emotions stronger than the desire for redemption and the love of a father separated from his son by prison bars.
"Awesome book. It reaffirms the power of what a human is capable of just by changing how they think. …"
Jim Harper
"First heard of Weldon Long at a conference where he was a Keynote speaker. Heard a little of his story there, intriguing me to purchase the book. This book is a great blueprint to turning it all around. These principles can be applied to anyone."
Ron
"Seriously, if he can do it, ANYBODY can do it!!! I have never heard of such a turn around! …"
Shamara Staples
"… My son had given up trying to get his life back together thinking it was impossible after all he has done and the years he will be spending in prison. He is following the lessons outlined in the book to the "T." He has applied for programs given by the prison and states he has hope for the first time in a long time and now feels he can get his life on track against all odds. …"
'Mom'
"From an ex-correctional officer, this book was an excellent read. I couldn't wait to read the next page. It's a very inspirational story to any one struggling and has a game plan to follow. I sent it to two other people I know that need the motivation. The book even makes me very proud of Weldon."
Robert Jahnke
"I recommend this book to anyone who wants to cement the idea that 'education will set you free'. It doesn't matter if you have previously failed at something (or many things), even if you are a convicted felon, as outlined in this book, education can turn your life around."
Joan Miller
"After reading Weldon's story, it's clear to me that you are what you think and that excuses keep you away from the truth about yourself. …"
'A man on his journey'
"The book is not filled with the gory details of prison life but focuses on the gradual realization of accountability and a desire to change his life. I believe his story can give hope to anyone whether you are a convicted felon or just someone that wants to change the path you are on in life."
Pamela Rackler
"… The language can be rough at times but it is 'REAL' and in context of the happenings and feelings of the author. This is truly an 'I THINK I CAN, I KNOW I CAN' book. Amazing transformation. I have heard this man speak in person and his story is nothing less than powerful."
R. Mills
The Power of Consistency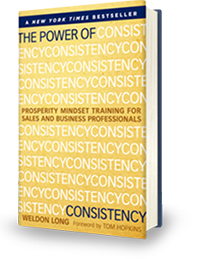 A New York Times Bestseller
The Power of Consistency, a New York Times Bestseller, is based on the fundamental premise that private declarations dictate future actions. In other words, we tend to take actions with the thoughts and beliefs we consistently have, and the cumulative results of those actions eventually create the quality and circumstances of our lives and businesses; therefore, transformative change in life and business is possible when we reconstruct our minds and take responsibility for its content.
The Power of Consistency
Lays out a simple process―the Personal Prosperity Plan―to create powerful results in your life and business
Explains the power of focus and your subconscious mind
Outlines a four step process: focus, emotional connection, action, responsibility
The Power of Consistency teaches you how to create a Personal Prosperity Plan, get deeply emotionally committed to the plan, and take consistent action toward implementing the plan for improved sales and business performance.
"…If you want a straightforward, easy to read and follow book that may not include a lot of science and research but is definitely consistent with all that research 'stuff', and you want to create a more productive mindset, this is a must read!"
Ed Nottingham, PhD, PCC
" … it is a riveting read. Very practical, very inspiring, very simple and easy to implement. Weldon hit a home run with this book for sure!"
Scott A. Miller
"16 years in sales profession, one of the most eye opening true books that I have ever read!!!"
Jerry Brown
"… We have purchased several copies to share with all our family, friends and all our employees. They have seen the change of direction in us and ask about the process. …"
Connie Kulp
"… I don't feel daunted or guilty about my life, rather, I have a renewed outlook and am inspired to go into the world and DOMINATE!!"
Dale Warner
"… I have to admit, I was in a slump. I read this book and the idea of setting a clear vision changed my life! Thanks Weldon Long!!!"
M. Sparkman
"I have now read this book twice. I am beginning to think this is the Think and Grow Rich for the world today. …"
Derek Nelson
"…I have met Weldon and he is a very genuine person. He spent two days with my employees and made a significant impact in their lives and mine. It's now mandatory reading for all of my managers."
Kevin Kalka
"Simple to understand ideas and just as easy to implement. Seventy years of sales and success books rolled into terminology we can all respect and understand."
Jeff
"…At 55 years old the thought of starting a new reality is somewhat daunting. If that's what I thought, it surely is what I was going to encounter. Sometimes you just have to be open to seeing the same thing in a different way. Dumping my box and starting today. …"
Carol H. Seyller
"… I've read many other books that explain the power of visualization, a daily quiet morning ritual, consistency, and taking action. But Weldon Long's book hit me where I was getting caught up – in the regularity of the habit, the consistency, and more powerfully, the power of looking only at one or two next steps at a time. As Long says 'the confused mind says 'no'!'"
Fernando Labastida
Consistency Selling
Amazon Bestseller in Leadership Training
One of the most difficult parts of being a professional salesperson is managing the emotional peaks and valleys that accompany the ups and downs of sales. But according to Weldon Long, there is no challenge you can't overcome, and he shows how salespeople can thrive in the face of adversity if they are just willing to create the right mindset and implement the right sales process–consistently.
Unreliable performance and unpredictable results are likely, says Long, because you aren't doing the same thing consistently on every sales call. If sales activities are random, results will be random. And random sales activities will never accidentally start producing consistent sales results, just as consistent sales activities will never start producing random results. It just can't happen.
Whether it's a bad economy, a cheap competitor, bad leads, or a personal challenge, Weldon Long provides step-by-step advice on how you can make committed, consistent activities part of your daily sales routine so you will consistently be rewarded with the sales you deserve.
"I am so happy to have purchased Weldon Long's books! He offers invaluable guidance on so much more than selling. I appreciate his courageous story of preparing for success while going through struggles that would break weaker men. Rather than giving up, he educated himself and became a pillar of leadership. Rather than making excuses, he shows us that taking action can lead to success on a monumental level. I encourage others to read all of his books and to consume the content that he produces. His work makes people better sales professionals, but also better human beings."
Michael Santos
"It was bittersweet reading this book. I was shown Weldon's Consistency Selling process well over a decade ago. Since that day I have successfully used this process in my sales career and now my business. I felt special like I was 'one of the few that had the secret sauce.' Well the 'secret sauce' has now been released to the masses so I'm not special anymore."
Dennis H
"Anyone who is into sales would enjoy reading this book, it's well written, has simple practical tips and insights and provides creative solutions to challenges. I wanted to read it because I'm working on improving the sales of my books and this was just the right fit.Thanks Netgalley for the eARC"
Dora
"Great book – easy to understand for someone without a sales background and the stuff in the book just makes sense!"
Andrew M. Mosman
"Best-selling author Weldon Long asserts that you can get sales prospects to commit to your price, make timely decisions, and agree not to solicit competing proposals—all by using his proven 'consistency-selling' process. By age 40, Long was a high school dropout and three-time convicted felon. Since then, he's written two books— The Power of Consistency and The Upside of Fear — and developed a psychologically powerful selling system for salespeople and sales managers. Long, who has taught his psychology-based sales system to thousands of sales professionals over the years, tells you how to use it to eliminate objections in advance and close new business. He offers detailed, practical advice for salespeople who wish to improve their closure rates and earnings. Best-selling author Weldon Long asserts that you can get sales prospects to commit to your price, make timely decisions, and agree not to solicit competing proposals—all by using his proven 'consistency-selling' process. Long, who has taught his psychology-based sales system to thousands of sales professionals over the years, tells you how to use it to eliminate objections in advance and close new business. He offers detailed, practical advice for salespeople who wish to improve their closure rates and earnings."
Training Magazine - February 2019
What World-Class Teachers Are Saying
About Weldon Long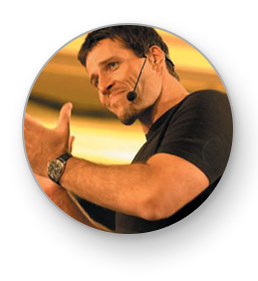 "Quite a story, Weldon! Congratulations on your turn around from prison to contribution."

Anthony Robbins

Bestselling Author and
Life Transformation Coach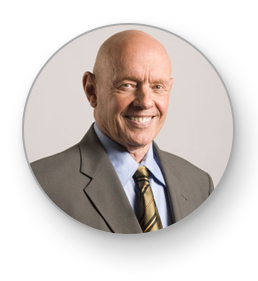 "I am convinced Weldon has a very special mission in life."

Stephen R. Covey

Author- The 7 Habits of Highly Effective People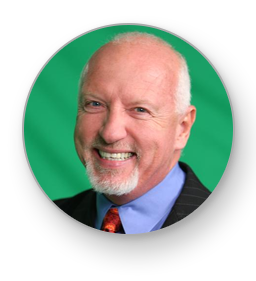 "To become the person of your dreams, read, absorb, and take the ownership of Weldon's ideas"

Mark Victor Hansen

Author – Chicken Soup for the Soul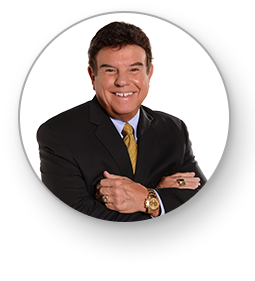 "Everyone should hear his powerful message."

Tom Hopkins

Author – How to Master the Art of Selling