What Can Weldon Long Do For You?
September 8, 2022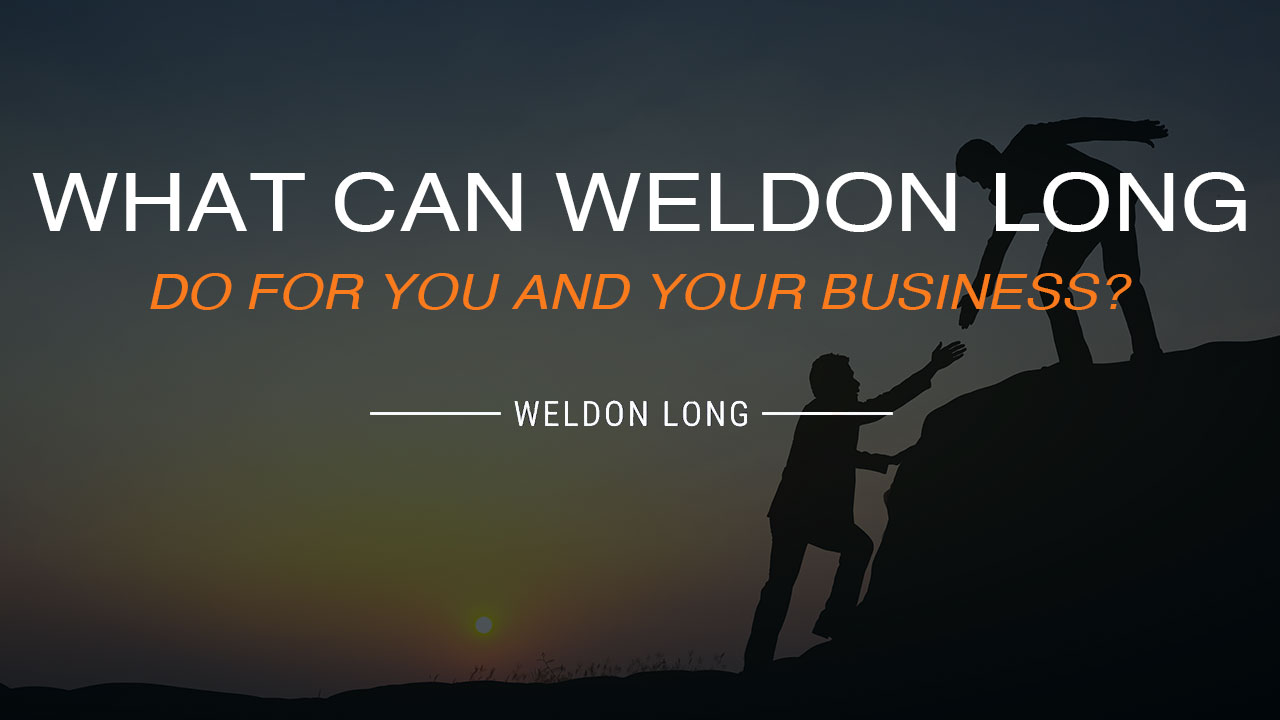 I have a long list of things I wish I could have done differently in my life; but deciding to help people achieve their goals and dreams is not one of them.
I know better than most people that taking the shortcut or trying to find an easy way around the obstacles life throws at you will only lead to failure. I believe that failure is just a stepping stone to success, so long as you use failure as an opportunity to learn and do better.
That's not why you're here, however. You want to know what a life coach and public speaker can do for your business, right?
Well, you're asking the wrong question to start. You should be asking, "What can a guy who has created multiple successful work teams and cultures teach me about doing the same at my business?"
Now that's something I can help you with.
Overcome Your Fear Of Being Seen
Good business people are often strong-headed and opinionated. It's part of what gives us the drive to overcome the challenges we face every day. But it can also be one of our greatest weaknesses.
You might have heard of the Greek word "hubris," but if not it essentially boils down to getting overconfident and refusing to reflect on your flaws to improve them. Hubris is the biggest cause of failure in any leadership position. Hands down.
Why? Because it makes us uncomfortable, it makes us doubt ourselves, and it makes us afraid. If you've read my book The Upside of Fear, you'll know that fear was my biggest hurdle in overcoming my own flaws. But I faced my fears, and decided to accept responsibility for my actions. It wasn't until then that I was able to start learning and growing from all of my many past mistakes.
A lot of people I've talked to over the years have told me that they hesitated before bringing me on to speak to their team because they were afraid of feeling exposed or embarrassed by their company. That's the first step to becoming successful – understanding that you're not perfect.
Whether you choose to embrace it or hide from it, well.. That's up to you.
Positive Culture, Positive Results
If I were just speaking to you as an ex-con, you might have some reservations about what business I have giving advice to anyone. Fortunately for you, I'm also a record-breaking team builder, sales leader, and a highly successful business owner myself.
Part of my process of changing my life, besides facing my fears and learning to embrace them, included making up for my past wrongs. I'm not perfect, but no one really is. What I am, though, is committed to keeping the success I've found since I began my new journey.
My success is built on the goals I set for myself, but particularly in my commitment to helping other businesses become amazing and successful through building positive employee culture and customer relationships.
What About My Team?
I may be living my dream life now, but I have been where each of your employees has been or lower. If anyone knows how to help them face their doubts and fears, it's me. I've been there, I've done that. I've created success, and they can too.
I have worked almost every aspect of business – from sales, cold calling, management, and on the ground with my employees. I have personally improved multiple businesses, both my own and others', from local shops to regional powerhouses.
I bring that expertise and knowledge with me to your business when you bring me in to speak to your team to build up a culture of consistency, respect, and success. But a strong team needs a strong leader, and I offer resources and advice for them as well. Success needs to be a mindset from the top down and the bottom up.
What Can You Speak On?
I specialize in the following topics:
Creating and maintaining a Prosperity Mindset for your business
Executive Leadership for all types of businesses
Overcoming Adversity, whether personal or professional
Managing Change to ensure smooth, effective transitions in your business
The Power Of Consistency for business and individual success
Sales
Find out more and book me for an event on the Speaking page.
If you want to read more about my philosophy and gain insight into bettering yourself, or even purchase a set of books for your whole team to read together, you can purchase The Upside of Fear, Consistency Selling, and The Power of Consistency.
The tools for you and your business to succeed are just a click away.
---