What You Do Speaks So Loudly That I Cannot Hear What You Say
August 18, 2022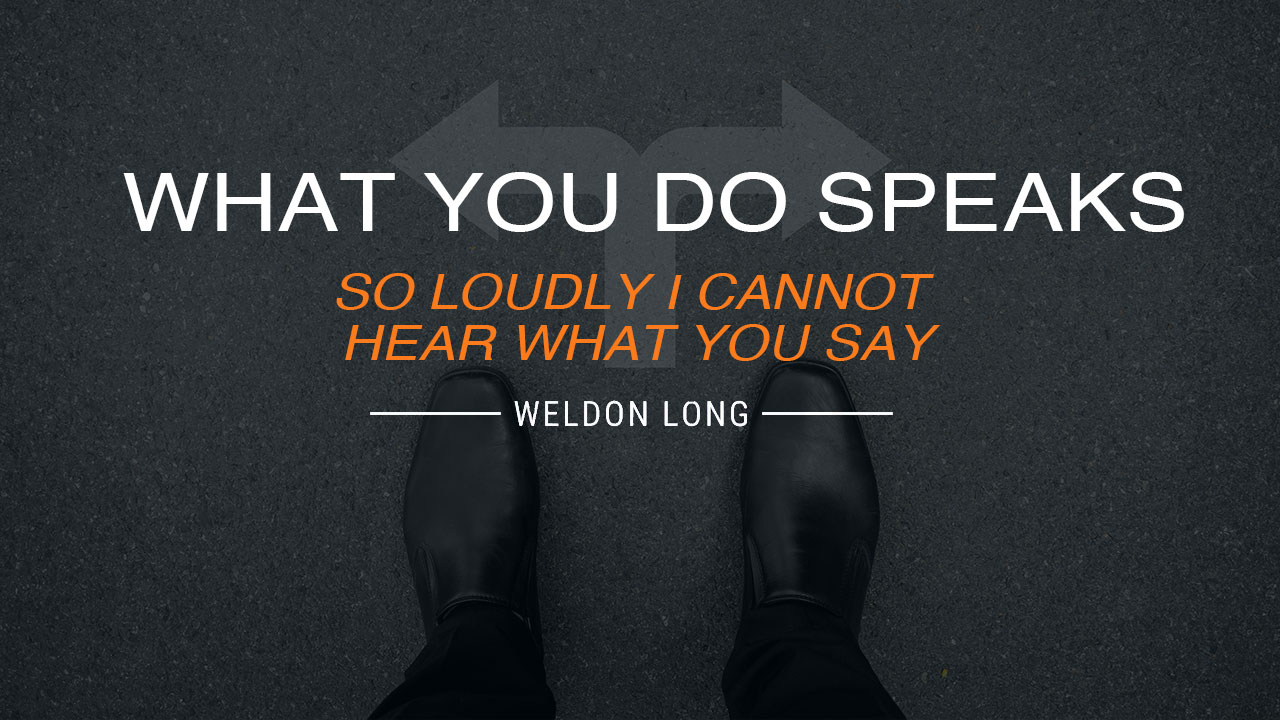 When I was younger, and reeling from what I felt was the world turned against me and a long series of "bad luck" incidents, I felt that I was doing the best I could. I was wrong.
It took years of prison, loneliness, and loss for me to learn that I had to act like a successful human being to become a successful human being. And you can start taking the first steps toward prospering right now by learning from my mistakes.
Making It Work For You
One of the things that I hear a lot after I speak to audiences is "Wow Mr. Long, I really needed to hear that." And I truly believe that each of you who have come up to me, and even those of you who thought it but didn't come say anything to me, want to do better.
But that's just the first step. See, when I first started out on my path to self-destruction, I thought that because I wanted to be successful, that I should just be successful. I hadn't taken the steps to overcome the fact that I hadn't considered why I wanted to be successful, who I wanted to be successful for, and how I could be successful.
I fully expected everything to just fall into place because I wanted it to. Yet I did nothing to change my lot in life. In fact, I did so much of nothing that I repeatedly thought that I deserved massive prosperity just by doing the little bit that I actually had.
Now, I don't want anyone else to have to go through the same struggles I did to realize how to not only be successful in family, in business, and in life, but prosperous as well. While a blog isn't enough room to give you a whole program, I can give you the tools to get started, and introduce you to the steps you need to continue down the road to prosperity in your own business and personal lives.
You've Already Decided You Want To Do Better. What's Next?
Ralph Waldo Emerson famously said, "What you do speaks so loudly that I cannot hear what you say."
Understanding this simple quote is a profound moment in your steps toward prosperity. If thinking I want to do better is step one, this could be considered steps two through infinity. Let me explain.
Once your business has started, it's easy to rest on your laurels and decide that you've got it easy from here on out. But nothing could be further from the truth. I know from experience. You can read more about my many attempts, and failures, at starting new businesses in The Upside of Fear.
The important thing here is that even though you have started the business, you need to maintain it and grow it to prove that you've actually done what you wanted. Starting a business is easy. Keeping it going is hard work, and that's where you have to show, not tell, to be prosperous.
Finding Prosperity In Your Business
You have a good idea, a good plan, and maybe even the resources you need to have an excellent opening, maybe even an excellent first quarter or year. But ideas and plans need to change, and that means they need action – from you most of all.
One of the things I discuss in my Upside of Fear presentations is the fact that Fear can be a good thing because it forces us to face the challenges we need to face. Running a business takes work, effort, time, and commitment. Just like relationships and family do.
If you want to find prosperity in your business, you need to be constantly reflecting, looking at what you've done, learning about your market, and taking the steps to expound your success to create the growth you desire. Your actions – all of them – will get you there, not your words.
Accepting That You Can Learn From Others
Ego is a powerful thing, and it's also the potentially most self-destructive element of potentially prosperous people. I knew I was smart when I was younger, but that wasn't my problem – my problem was that I knew that I was doing everything I could. But my ego kept me from realizing that I was lying to myself.
It wasn't until I took the time to learn from those who came before me that I realized I had so much left to learn: Napoleon Hill, Viktor Frankl, Tony Robbins, and others helped shake me out of my delusion and open my mind up to new ideas and new possibilities.
I am grateful for the chance now to be able to reach out and help others like you find the same sorts of success in whatever adversity you face in life because I have done it myself.
Take the actions you need to take to find success. It won't come to you – you have to go find it and wrestle it into submission, and that takes work. Even the best marriages need counseling sometimes, and even the best businesses and business ideas need some new ideas and fresh insight to make them work as well.
Business Prosperity Mastermind
I have decided that there are many people out there, like yourself, who want more than just to come see me speak at a seminar or get a quick conversation with me afterward. And I wanted to have more time to help people find success in their business on a much more personal level as well.
So I created the Business Prosperity Mastermind retreat for business owners and executives like you to sit down with me and other like-minded people for a 3-day event to jumpstart your business – whether it's brand new, or you're just looking to take the next step to success and prosperity.
This is so exclusive that I've decided to keep it at 20 participants – I want everyone to have the chance to be a part of this and to glean the most from myself and the opportunities I can offer to help you face the challenges you face in your business.
Prosperity is more than that though – Participation will have some of the most amazing guest speakers, including Steve Rozenberg, a retired pilot and real estate guru, and Aron Ralston, subject of the film 127 hours. Both of these men have overcome adversity and challenges in their own lives and have made it their mission, like me, to help others.
More guest speakers will be announced as we get closer to the date of the event as well, so keep an eye on our page for details!
Participation also includes weekly one-on-one time with me, Weldon Long, and coaching for you and your team to follow up on the tools and opportunities you will learn about at the event.
So What Next?
Success is within your reach, and I have many opportunities and tools to help you become the Mastermind of your own Prosperity. As always, you can visit my website, weldonlong.com, or my YouTube channel for more insight and tools, or to book me for your event.
You can also read more about my journey for inspiration and tools for success in one of my three published books, available on Amazon both digitally and in print.
You can be successful, and I would be honored to be a part of that journey toward success.
---